I am Geronimo Stilton's Mom!

Many people know Geronimo, but not everybody knows how he was born… and now I will tell you!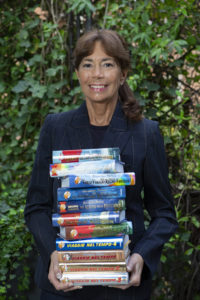 In the Nineties, I found out that I could not have children. I started to volunteer in pediatric hospitals. It was at that time I heard about Patch Adams, the physician who dressed a clown to bring humor to children in hospitals. That is how I started to tell children stories that were funny and adventurous (but also full of good values) of a shy, tender and clumsy mouse: Geronimo Stilton!
Children seemed to love those stories, and that's how I started to write Geronimo's adventures, that soon became books.
I could have never imagined that they would have become so popular!
Today they are published in 49 different languages, and have sold 180 million copies all over the world.
That is why I can say that mine is truly a happy ending story: I made my dream come true, and I have become the mother of millions of children all over the world. But let's get back now to how it all started. I was born in Milano, the daughter of a father who adored books, Piero Dami. He had founded many years ago a publishing house of books for children, Dami Editore… and by the age of thirteen, I already was working for him, as a proof reader, plunged into books, already dreaming of becoming a writer. At the age of twenty I already was touring the world with him, because his books for children were sold in many different countries. After that precious experience, in which I learnt the little big secrets of publishing, I realized that what really made me happy was writing and since then, I never stopped writing books, with love and passion, with excitment and commitment, with all my heart. In every book I write there is a little bit of me, especially my love for adventure.
I love to travel and explore the natural environments of the Earth, near and far away: the Sahara desert, the North Pole glaciers, the Nepali forests and the Himalayan peaks, but also the sands of the the Australian outback, the majestic Victoria Falls, and the fascinating biodiversity of the tropical forest of Central Africa Republic.
I also love to visit the WWF Oasis (World Wildlife Fund Natural Reservations in Italy), where nature is loved and protected. I have a passion for archaeology and I visited legendary sites like the mysterious Machu Pichu and the ruins of Peru, the Giza Pyramids in Egypt, but but also the ones of Chichen Itza in Mexico, and the stones circle of Stonehenge in Great Britain. I love all the countries in the world, each has its beauty and its fascinating unicity, but I always have in my heart the Country where I was born and I live, Italy. I visited the wildest nature environments, I met different people and cultures, making many new friends, and from each of them I learnt a lot: it is so touching to share different experiences and traditions!
I got an engine plane pilot plane many years ago, and I also experiemced the breathtaking experience of launching with a parachute. At the age of 23, I had a tour of the world, all by myself, and it was at that time that I had a fascinating experience: a survival course of the well known Outward Bound School, in Maine, US, on the mountains, in December, at 25 degrees below zero… I ran three times the New York City Marathon (last time in November 2017), and once the legendary '100 kms of the Sahara', those were for me beautiful adventures as sport reminds us of the respect for all those who compete with us, and the joy of true victory, which has to be conquered loyally. I also had the honor to be officially adopted by two tribes of native americans: the People of the Hopi (in the Spider Clan), and the People of the Cherokee (in the wolf Clan).
But let's get back to Geronimo Stilton…
I love all animals, but I always was fascinated by mice, because they have a special creativity and intelligence… and like me, and like children, they are utterly curious!